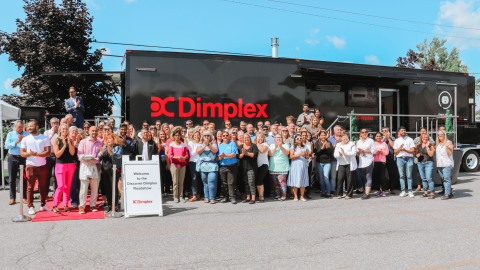 Official Opening of Discover Dimplex Showroom
on | 1 min read
This week the amazing Discover Dimplex mobile trailer showroom visited our North American Headquarters for the official opening ceremony as part of a national tour.
Colleagues came together for a tour of the luxurious showroom which will function as a shared resource for Dimplex and its business partners to present working products to prospective customers. This aids in better visualization of the product and creates a better understanding of the value proposition.

Since dealers need to be in their showrooms selling, making it challenging to attend trade shows and see what's new and exciting — Dimplex is taking the show to their customers.

CEO of Glen Dimplex Americas, Robert Bartucci, shared his enthusiasm about the tour, "We have always been the innovators in electric fireplaces, and this program is another example of that philosophy and how we continue to add value with our partners".