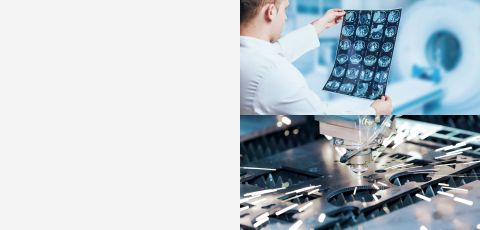 Precision Cooling
We put customer care and collaboration at the forefront of our client relationships to develop and produce customised systems for high precision machine and process cooling. Our teams use our deep expertise and experience to create reliable, robust, and economical ways to meet industry demands as we look to the future of process cooling.
Working globally and impacting locally with over 10,000 customers across more than 30 market segments
Glen Dimplex Group presence spans across 3 continents, with a global network of production, development and round the clock service. Our broad range of applications provide forward thinking system designs in medical, industrial and process cooling, covering areas such as laser machines in industry, MRI or CT devices in medical technology and professional 3D printing machines.
The next generation of customer servicing
Working at a large or small scale on new systems created from scratch or on the optimisation of existing processes, we pride ourselves on reliability and driving progressive digital service concepts, that can counter the challenging demands placed on many industries. Our unique remote monitoring and preventive maintenance services mean we can often prevent failures from occurring in the first place. And our customer service technicians will always be right by your side - at any time and virtually any place throughout the world.
Creating the link between innovation in Precision Cooling and global sustainability
Energy efficiency is key to achieving our sustainability targets and thanks to our consistent levels of design excellence, we are creating the types of high performance, high reliability systems that can make realistic net zero commitments. With more than 15% of the world's primary energy being used for cooling, which equates to approximately 8% of global CO2 emissions the demand for more sustainable cooling solutions is growing every year.
A standout performer of sustainability initiatives
Our commitment to innovation, alongside our sector-expertise and know-how is helping to drive new solutions that can make a real-time impact and lasting contribution to climate protection. With our new Global Chiller Platform, we have modern systems with connectivity and up to date protocols. Our goal for the future is to influence sustainability on an industrial scale with high energy efficiency, reduced refrigerant quantities and low GWP refrigerant.
Contact Us
Get in touch
We're always happy to collaborate with new customers on their projects. Find out what we could do to optimise yours today.