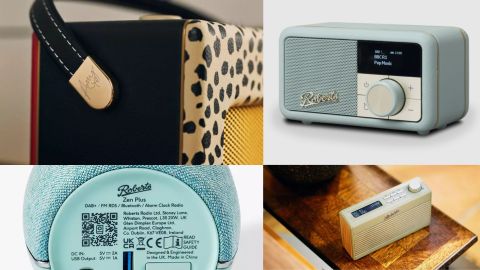 Empower Now: Exploring audio innovations for a sustainable future
on | 2 min read
As we embed our ESG (Environment, Social and Governance) framework, a great example of work being carried in this area is from our audio brand Roberts, home of the UK's most loved radios.

The Glen Dimplex: Empower Now strategy is our group wide ESG sustainability approach, aiming to impact on five key areas: transforming our products, rethinking resources, empowering our people, partnering for success and laying foundations, underpinned by a robust governance structure.
Servicing, recyclability, and packaging
Roberts products launched this year with ESG innovations in mind, have included the Revival Petite and Rambler Mini, both modern versions of much-loved classics but with a smaller footprint and using less resources to produce.
Designed in-house, these new products have been engineered to reduce resource usage and support easy servicing and recycling e.g. using recycled plastics and eliminating glues throughout the construction, and colouring plastics internally to assist with automated sorting in the recycling process. Packaging innovations have removed the need for plastics and have opted for 100% recycled and recyclable cardboard packaging, even utilising eco-friendly printed inks.
New products also feature a QR code based multilanguage support system, removing the need for printed instruction booklets. QR codes are printed directly on to the products to directly take users to product support information.
And it's not just environmental factors that are subject to new innovations; social sustainability factors within the ESG model are being met with fresh perspectives in design and social responsibility.
Social sustainability through design and partnerships
Two recent product launches have included the Zen Plus, a wellbeing digital alarm clock radio, and the Roberts x Amy Winehouse collaboration, which supports the Amy Winehouse Foundation.
The Zen Plus is designed to improve mental wellness by assisting with drifting to sleep, and waking naturally using included preloaded sleep soundscapes and natural wake sounds which mean users can, for example, fall asleep to the sounds of the ocean no matter where they live, or awake to a dawn chorus 365 days per year.
This year Roberts have also been proud to launch special edition products in collaboration with the Amy Winehouse Foundation, a charity set up in the musician's memory to inspire children and young people to build their self-esteem and resilience. By purchasing a Roberts x Amy product customers are helping fund essential projects aimed at supporting young people in need.
Helping consumers transition to a sustainable world is a challenge Glen Dimplex is taking seriously through its Empower Now strategy in all its product sectors including heating, ventilation, cooling and products for comfortable living. Leveraging our long history of innovation and listening to consumers will enable us to make great strides towards empowering the everyday lives of our customers.