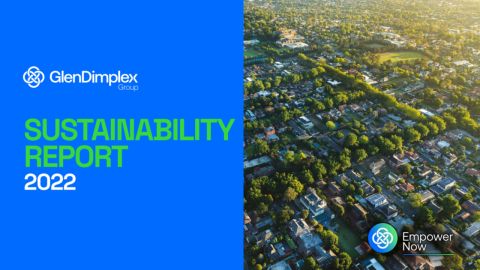 Glen Dimplex: Empower Now - Sustainability Report
on | 1 min read
Today we launch our first Glen Dimplex Sustainability Report designed to share information about our Empower Now Sustainability Framework, our ambitions, and our early success stories.
With an introductory message from our Group CEO Fergal Leamy, the report demonstrates our commitment to be a purpose-led, sustainable business, listening to and responding to the needs of all our stakeholders.
The report also contains an introduction to our business and our sectors, and highlights our five main focus areas: Transforming our Products, Rethinking Resources, Empowering our People, Partnering for Success and Laying Foundations. This sustainability report is an important first step in the Group's sustainability reporting journey and sets out our ambitions for the business over the coming years.
As an international business, we have the reach and influence, and the ability, to create real world impact in the economy and to society in everything we do, for generations to come. We hope this first report makes clear our ambitions and inspires our colleagues and partners to support us on our journey.